Can you please check the status lights on your Gogogate2's USB Wi-Fi Adapter?
A) If the Blue light is NOT blinking at all:
Please make sure that your Wi-Fi signal is strong enough, the instructions are here.
Check if the network is the correct.
B) If the blue light is blinking Intermittently:
Please make sure that the Wi-Fi name and password were introduced correctly.
If it shows (Wrong WEP Password), the instructions to fix this issue are here.
C) If the Blue light is blinking constantly:
This is a common problem when your router blocks the DNS servers used by default by Gogogate2. In order to get this issue resolved, you must set up your network settings in "Manual Mode":
First, check your router IP address. If you do not know how to do so, please click on the link.
Open the Gogogate2 APP and access the Wi-Fi settings menu (EDIT -> CONFIG DEVICE ->Wi-Fi).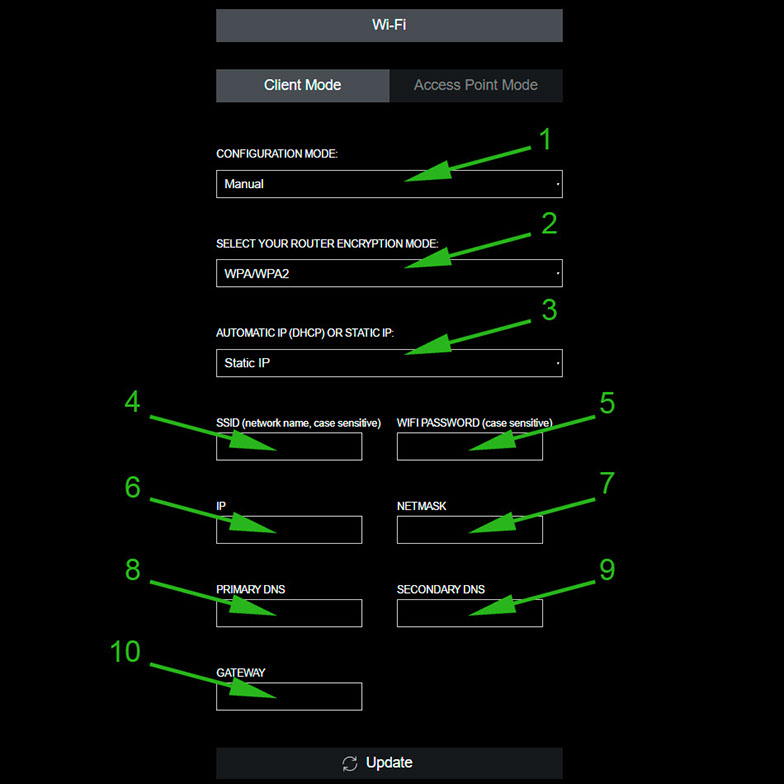 CONFIGURATION MODE: Choose MANUAL.
ENCRYPTION MODE: Choose the type of encryption used by your Wi-Fi network. To check encryption, please check on the link.
AUTOMATIC OR STATIC IP: Choose STATIC IP.
SSID: Introduce the name of your Wi-Fi network, where you want to connect Gogogate2.
WI-FI PASSWORD: Introduce your Wi-Fi network password.
IP: Introduce here a valid IP address for your network. For example, you can introduce the same IP address than your router but replacing the last two digits. If the router IP  address is 192.168.1.1, the Gogogate2 IP address would be 192.168.1.25
NETMASK: Introduce here the subnet mask (by default 255.255.255.0).
PRIMARY DNS: Introduce here your router's IP address.
SECONDARY DNS: Introduce here again your router's IP address.
GATEWAY: Introduce here again your router's IP address.
Finally, press UPDATE to save all changes.